Green Mountain Thermal Corps presents the 2016 SeptemberSoar Treffen Aerotow in Vermont
Thursday, Sept 16 - Sunday, Sept 18, 2015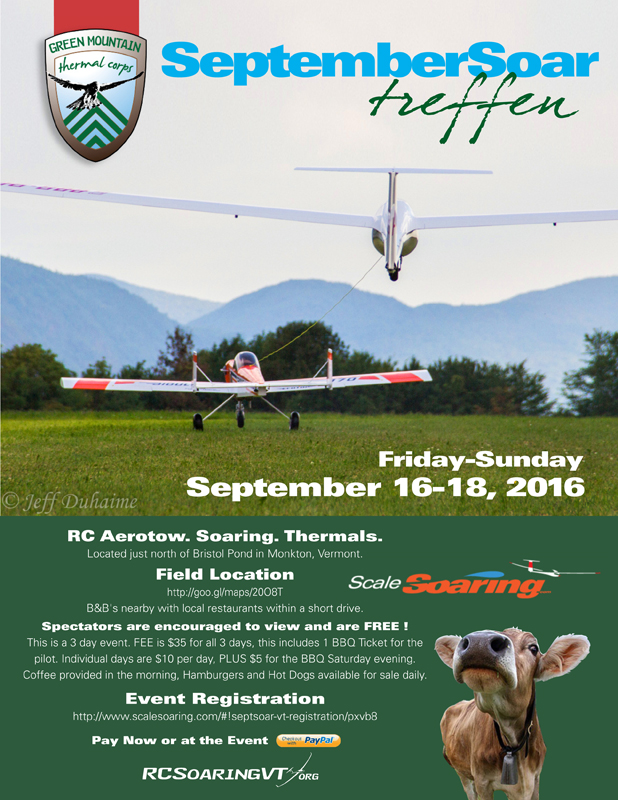 Event Registration
ALL ENTRANTS must go to >>
http://www.scalesoaring.com/#!septso...stration/pxvb8
RC Aerotow. Soaring. Thermals.
Enjoy fall foliage, mountains, thermals and a great location for RC soaring nestled right at the base of Hogback Mountain in Bristol, Vermont. Share the skies with our trusty mascot Red Tail Hawks hunting lift at the 2016 SeptemberSoar Treffen Aerotow. Any RC sailplane that can be aerotowed and electric powered sailplanes are welcomed, please no winches.
This is a 3 day event. FEE is $35 for all 3 days, this included 1 BBQ Ticket for the pilot. Individual days are $10 per day, PLUS $5 for the BBQ Saturday evening. Non-Pilots and family member are welcome at the BBQ for only $5 per person. Spectators are encouraged to view and are FREE.
Pay Now or at the Event >>
http://rcsoaringvt.org
B&B's nearby with local restaurants within a short drive.
Hidden Garden's Bed/Breakfast
www.thehiddengardens.com
693 Lewis Creek Rd
Hinesburg, VT
(802) 482-2118
Kirriemuir Heights Bed & Breakfast
www.kirriemuirheightsbnb.com
656 Highland Way
Ferrisburgh, VT
(802) 425-3100
Inn at Baldwin Creek
innatbaldwincreek.com
1868 N 116 Rd
Bristol, VT
(802) 453-2432
Crystal Palace Victorian Bed & Breakfast
Crystal Palace B&B
48 North St
Bristol, VT
(802) 453-7609
Emerson Guest House
emersonhouse.com
82 Main St
Vergennes, VT
(802) 877-3293
The Inn At Charlotte
innatcharlotte.com
32 State Park Rd
Charlotte, VT
(802) 425-2934
Crossroads B&B
crossroadsbb.net
4571 Ethan Allen Hwy
New Haven, VT
(802) 453-5958
The Crossroads B&B is highly recommended, make your reservation soon.
Google Field Location
http://goo.gl/maps/20O8T